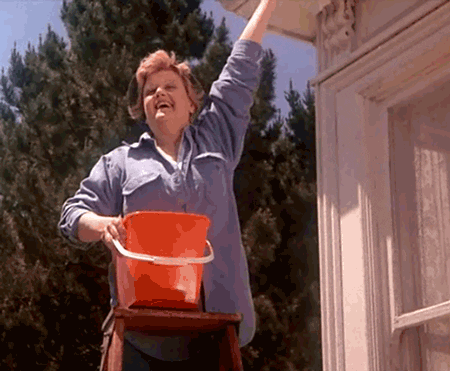 I love the holidays. Love them. So many children. So many things to do. So many builders. Last week, we were in Devon for a few days, more about that later, then back into the children's social whirl; friends round, days out at the trampolining place in Acton, Brent Cross, IKEA (the glamour), sewing, all sorts. I'm exhausted and I've still got another 3 days to go. Ah well, the house is quiet, my daughters are asleep and there's two half full bottles of vodka to drink, so it's not all bad.
I did some hand sewing the other day. I saw this jumper on the internet:
and being a covetous so and so, my first thought was that I NEEDED it in my life. Of course, there are no more of them to be had anywhere, so my next thought was that I could quite easily make one. Of course.
I bought six colours of sequin tape on ebay, and searched the charity shops until I found something suitable. I found a really nice black jumper before the sequins arrived, and I was very tempted to use that, but I wore it with my tartan Delphine skirt, and liked the way they looked together, so that was out. I then found a superb magenta jumper, but it looked utterly hideous with the red sequins, so that was out too. A trip around West Ealing the other day, and I found a grey ex-Primark scoop necked jumper, in the right size and absolutely perfect.
I spent the whole of Friday night alternatively sewing sequins, swearing and drinking, because I know how to live it up.
By 1:30 am (no word of a lie), I had this.
That took three episodes of "Murder, She Wrote" and a Sherlock. Also, the best part of a bottle of vodka.
I wore it the next day. Have a crappy dressing table mirror selfie.
Hurrah for the shiniest boobs in the whole of London.
It is amazing, and I love it to bits and back. although if I pull the sleeves up, the sequins make my arms itch, and I can't wear it to work as the children will make (even more) grabs at my boobs but details, details.
Hurrah for upcycling, hurrah for sewing skills, hurrah for everything, basically.
I have lots and lots of finished things to blog, so brace yourselves, including a progress report on the RAINBOW RAGLAN.