I am a Sewcialist, which means that I like to sew and tweet and blog about it. I am also a Socialist, but that's another story. This month, on the Sewcialist blog, we are thinking about people who inspire us to sew more, better, faster and using different fabrics.
So here are my inspirations. All photos are shamelessly TAKEN from their websites; bad writers borrow, good writers steal.
First up,
Ysolda Teague
. I was a knitter before I sewed anything. So my favourite designer is a knitwear designer, and so there. My blog, my rules. I've actually met her three times, twice at
Loop
in Islington, once with Lucy who pushed a lot of women out of the way because they were annoying her. Gosh, I love Loop. I haven't been for ages, how depressing. It's such a LONG way from Ealing though, and I'm so lazy.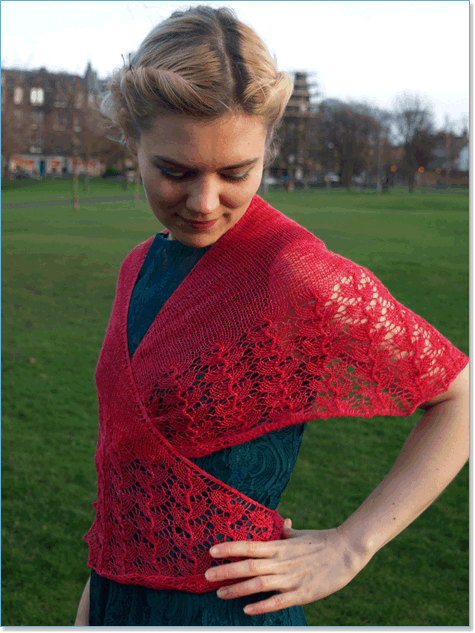 Look. Look at this beautiful shawl. So gorgeous.
This is on my list for this Year of Projects. So gorgeous. Look at the detail at the neckline.
Ysolda has a whole heap of ebooks and real books for sale. You can buy them on her website, and while they aren't for absolute beginners, they are perfectly knittable.
Another knitter; Kate Davies. Kate was an academic for years, but sadly suffered a very stupidly early stroke a few years back, and hasn't been able to work in the same way since. Happily for her and us, she had a parallel career in knitwear design, and that is now what she does. I've been reading her blog for years and years, and love her work dearly.
Isn't this beautiful? Kate's blog can be found
here
.
Roisin who blogs
here
is a maker and a doer, and a very creative one at that. She loves a mad print, and has really inspired me to just go for it; I shamelessly, shamelessly copy her style where I can. Shame I can't wear mad prints to work; the paint and the glue and the children mean I really don't want to ruin my precious handmades.
Recent inspirations:
See what I mean? Such a creepily weird stalker.
Another designer - Tilly Walnes. I missed the Great British Sewing Bee last year, what with going to Cape Town twice in a month, but I'm making up for lost time by stalking her shamelessly and making thousands and thousands of Coco tops. I met her too, but was too shy/felt it would be too fangirl to take a photo, but she took one of me! In my Coco! SCREAM. Anyway, you can find Tilly's blog
here
.
Look how titchy she is; part of her skill is being able to make something that suits a teeny weeny little thing like her and a much more solid person like me.
Finally. She's not a sew-ist. She's not a knitter. She's a BAD COOK and a very funny lady indeed. Esther Walker writes about her adventures in cooking
here
, and is always worth a read. She inspires me to cook more, even if I don't. She also inspires me to write about things in a hopefully amusing way.
So there you go. Who inspires you?