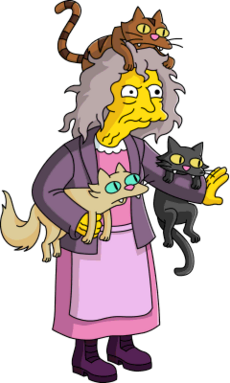 There was a time when this looked like my most probable future. Totally mad, surrounded by cats, muttering away to myself. Well, I don't have any cats yet, and I've mostly replaced muttering with writing the blog, but otherwise it's not quite off the table. So far, we've managed a hamster and four fish; very low maintenance, slightly dull pets, although the hamster has bags of personality and is a little smasher.
I still would like a cat though, and will get at least one at some point, so to prepare for this momentous occasion, I decided to participate in
Miss Crayola Creepy's Cat Lady Sewing Challenge
. Part of me wanted to go full on mental with a dress with massive cats on, but then I remembered that I wouldn't wear, I have three handmade dresses I barely wear, I'm 37 and a UK size 14 and went for something a bit more subtle.
It's not finished yet, but I've only got another skirt panel to cut out, because I had to order more fabric as the Anna dress always takes more fabric than I think it should, then I've got to sew the whole thing together, and that won't take more than two evenings. It's got to be done by Sunday. Easy.
Look at the selvedge on this!
Truly, this will be a thing of beauty and grace, and I will look elegant and gorgeous, if just slightly mental. It's a look I've got to get used to.